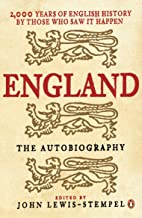 England The Autobiography
DISCOVER 2,000 YEARS OF ENGLISH HISTORY TOLD BY THOSE WHO LIVED IT - FROM BOUDICCA'S REVOLT TO THE ASHES WIN OF 2005.Featuring writing from Julius Caesar, Guy Fawkes, Isaac Newton, Charlotte Brontë, Winston Churchill and Jonny Wilkinson.______________
Engine of Industrial Revolution, global empire, England's history is one of the most fascinating and influential the world has ever known. 
England: The Autobiography
 tells that history first-hand, through the words of those who saw it and those who made it.
All the great events of the last 2,000 years are here: the Norman Conquest, Magna Carta, Henry VIII's break with Rome, the Great Fire of London, two world wars. And alongside them are events that capture the nation's social history and those that shaped the nature of 'Englishness', such as the Black Death, theatre going in Elizabethan London, the Beatles and the 1966 World Cup.
This book is an intimate, vivid and revealing portrait of England and the English - and the unique place of both in world history.