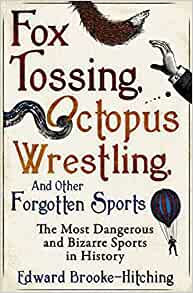 Fox Tossing Octopus Wrestling & Other Forgotten
For those who enjoyed the quirkiness of 
Schott's Miscellany
, the erudition of 
The Etymologicon
 or the extremes of 
The Dangerous Book for Boys
, this is the perfect read.
From Flagpole Sitting to Mumble a Sparrow, Edward Brooke-Hitching has researched through piles of dusty tomes to bring vividly back to life some of the most curious, dangerous and downright bizarre sports and pastimes that mankind has ever devised, before thinking better of it and erasing it from the memory.
After all, who would ever want to bring back Fox Tossing, a popular sport for men and women in 18th-century Germany? As the name suggests, it would involve dozens of couples pairing up and standing 20-25 feet apart in an enclosed field, each holding one end of a net, and then they would pull hard at both ends as the fox ran past, sending it flying high into the air.
There are many other sports revealed within these pages that are unlikely ever to make an appearance on Sky Sports, such as Firework Boxing, which is just as dangerous as it sounds. Meanwhile, Ski Ballet may not have been so risky, but Suzy 'Chapstick' Chaffee's signature move - the Suzy Split (a complete forward split while balanced on the tips of her skis) - was probably not one to try at home. An intriguing, entertaining and occasionally shocking insight into the vivid imaginations of mankind across the years, 
Fox Tossing, Octopus Wrestling and Other Forgotten Sports
 is an unforgettable read.