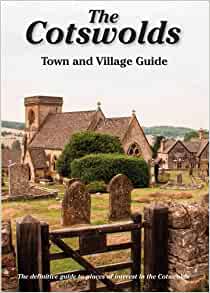 The Cotswolds Town and Village Guide
"The Cotswold Town and Village Guide": The latest fully updated edition of the "Definitive Guide to Places of Interest in the Cotswolds" as the author says this is the result of my continuing love affair with the Cotswolds, an area that I have known for most of my life and one that I have been visiting with my camera and notebook for well over fifty years.
A glance at the maps contained in this book will soon reveal that the area covered extends well beyond the classic Cotswolds, but it never strays far from true limestone country with its typically lovely stone towns and villages. These are enfolded by rolling hills and quiet wooded valleys through which clear streams flow and all have a similar character to the better-known places of pilgrimage like Stow on the Wold, Cirencester, Bourton-on-the-Water or Broadway. Of course these favourites have not been ignored.
The Cotswold countryside is as near to perfection as one could wish for, but it is still further enhanced by the treasures to be found within its towns, villages and hamlets. Here are some of Britain's loveliest medieval churches and domestic buildings, almost all of which are built of the marvellous honey coloured Cotswold stone that here lies so close to the surface. When setting out on your journeys of discovery, savour each day and not try to cover too much ground - it has taken me most of a lifetime to get round it all! If possible buy a good map or maps (preferably Ordnance Survey ones) and walk from village to village along a quiet footpath or bridleway, stopping beside a stream for a picnic, or at a pub for lunch. This is another book from Reardon Publishing the Cotswold Publisher.