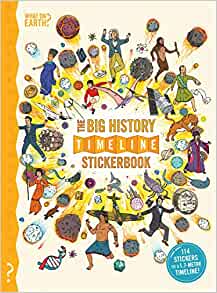 What On Earth Sticker Book: Big History
The timeline starts with the Big Bang and continues right up to the Present Day, telling the story of the history of the world including topics such as: the creation of the natural world, human prehistory, and historical people and events in Asia, Africa, the Americas and Europe from religious leaders to buildings to battles!
This unique timeline sticker book has over 100 beautifully illustrated stickers that you can use to fill in the 1.7m long timeline, which has captioned, white silhouettes to show you where to place your stickers. The timeline is detachable so you can spread it out on the floor and then display it on the wall when it is finished! Each sticker book also comes with a colouring-in page.
This timeline is perfect for helping children explore chronology and sequencing in a fun, educational and entertaining way.